These meditation apps nurture mindfulness and provide tools for drifting off to sleep.
Written by Damare Baker | Published on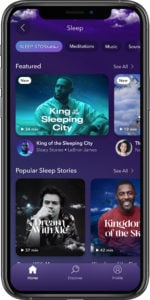 Cost: Free content is limited. Paid plans are $15 a month or $70 a year. A lifetime membership costs $400.
How it works: Answer a survey to home in on the best content for your needs, whether you're looking to focus better or to minimize stress. Tap through guided meditations and mindfulness tips.
For sleep: Dream of nodding off to Harry Styles's voice? The singer is one of many celebrities narrating bedtime stories.
Bonus: Track your daily mood and moments of gratitude on the app.
DOWNLOAD FOR IOS DOWNLOAD FOR ANDROID
---
Cost: $13 a month or $70 a year. Student and family plans are available.
How it works: For those new to meditation, guided exercises walk through the essentials, and all sessions are no more than 20 minutes. A badge system charts your progress, helping build habits.
For sleep: You'll receive a different "sleepcast" each night featuring audio-­guided tours of dreamy landscapes designed to lull you to slumber.
Bonus: The app also offers yoga classes.
DOWNLOAD FOR IOS DOWNLOAD FOR ANDROID
---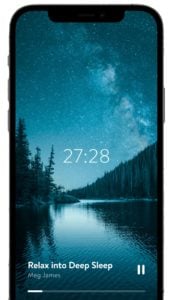 Cost: The app is free, but extra features are available for $60 a year.
How it works: Complete a questionnaire to curate meditations, talks, and music tracks that fit your lifestyle. The extensive audio library has 140,000 files to explore.
For sleep: In addition to relaxing sounds for bedtime, a series of audio courses cover strategies for falling asleep.
Bonus: There's a collection dedicated to kid-friendly stories and meditations.
DOWNLOAD FOR IOS DOWNLOAD FOR ANDROID
---
---
This article appears in the January 2023 issue of Washingtonian.
Research Editor
Before becoming Research Editor, Damare Baker was an Editorial Fellow and Assistant Editor for Washingtonian. She has previously written for Voice of America and The Hill. She is a graduate of Georgetown University, where she studied international relations, Korean, and journalism.