Singer-songwriter Ne-Yo. Photograph by Chris Stanford.
Happy Thursday, everyone!
From live concerts to outdoor drinking and Lunar New Year festivals, there's plenty of exciting things to do around town this weekend.
Best Things to Do This Weekend
Want More Things to Do?
Budget-friendly. The Way Down Wanderers will perform live at Pearl Street Warehouse (Fri, free, Wharf). Wear a onesie and groove to retro hits at Metrobar (Sat, free, Northeast DC). Learn about DC's performance oversight process (Thurs, free, virtual).
Arts and culture. MSNBC anchor and attorney Ari Melber discusses the book January 6 Report (Thurs, $30 for book and ticket, $12 for virtual ticket, Northwest DC). Have your home treasures and fine arts appraised at St. Clement's Island Museum (Sat, free, Coltons Point). "Ringgold and Saar: Meeting on the Matrix" exhibition opens this weekend at the David C. Driskell Center (through May 22, free, College Park). Attend a meet-and-greet with photographer and author Patricia Z. Smith at Hemphill (Sat, free, Northwest DC). View the outdoor installation "Brier Patch" by Hugh Hayden at Dumbarton Oaks Garden (through May, free, Georgetown). Be a part of an art discussion with McLean Project for the Arts (Thurs, free, virtual). Mingle with neighbors and nibble on small bites while exploring the Anacostia Community Museum's recent exhibit, "The Utopia Project," at this after-hours event. Utopia After Dark is sold out, but walk-ins are available (Thurs, free, Anacostia). Learn about the National Academy of Sciences's latest exhibition, "Arctic Ice: A Visual Archive," with the artists and researchers who contributed to the project (Thurs, free, Northwest DC). "Emmett Till & Mamie Till-Mobley: Let the World See" opens this weekend at the library (through March 12, free, MLK Memorial Library). Sip and paint with artist Justin Q Young (Thurs, $35, Waldorf).
History and heritage. Discover the history of DC and visit local bars on a walking tour (Thurs-Sun, $72, Northeast DC). Local graduate students are invited to celebrate the Lunar New Year with food and cultural activities at Johns Hopkins School of Advanced International Studies (Sat, free, Northwest DC). Watch film selects from Haiti, Brazil, Jamaica, and the US that explore Afro-descendant spiritual practices; the screening is followed by a panel discussion (Thurs, free, Northeast DC).
Theater and shows. See the live-recorded performances of Straight Line Crazy at Shakespeare Theatre Company's Harman Hall (Sat, $20, Northwest DC) or Much Ado About Nothing (Sat-Sun, $20, Northwest DC). Experience the Ballet Theatre of Maryland in Momentum: A Mixed Bill (Sat, $40, Largo). Attend an art showcase in celebration of Indigenous communities at Woolly Mammoth Theatre (Sun, free, Northwest DC). See the DC premiere of The Lifespan of a Fact (through February 25, $50, Northwest DC). Five storytellers share an adult version of the Pied Piper fairytale (Sat, free, virtual). There's comedy and a magic show at Anacostia Arts Center (Sat, $10, Anacostia). Laugh into the weekend at a comedy show by Capital Showcase (Sat, free, Northwest DC), or at Comedy Club DC (Fri-Sat, $10+, Adams Morgan).
Sports. Monster trucks will race at full-throttle at Monster Jam (Sat-Sun. $25+, Capital One Arena). Play golf and eat unlimited wings at City Swing (Thurs, $40, Northwest DC). Box at this trans+ and queer empowerment boxing class hosted by Georgetown University Club Boxing; allies are welcome (Fri, free, donations welcome, Georgetown).
Music and concerts. Listen to the vintage sounds of the John Ingram Band (Sat, free, Wharf) or classical selections by the Parker Quartet (Sat, $25, Takoma Park). Channel your inner superstar and jam out at late-night karaoke (Wed, free, Cardozo). Get tickets to Art Sherrod Jr. to hear soulful hits at Blues Alley Jazz (Sat, $35, Georgetown). Pianist Charles Richard-Hamelin plays classical songs (Sat, $75+, Kennedy Center). Grammy-award winning Silkroad Ensemble has a show at George Mason University (Sun, $33+, Fairfax). Get tickets to Greensky Bluegrass (Fri-Sat, $45, Wharf).
Game night. Put your thinking caps on for trivia night at Metrobar (Thurs, free, Northeast DC) or trivia at Lost Generation Brewing Company (Sun, free, Eckington). This trivia night includes arts and crafts (Sat, $40, Baltimore). Play cards, board games, musical chairs and more fun at Adult Game Night (Sat, $75, Bowie). Play to win prizes at City-State Brewing (Thurs, free, Northeast DC). Solve a murder mystery during trivia night at this live interactive show hosted by DC Improv's Rob Maher (Thurs, $22, Northwest DC).
Things to do with kids. Observe award-winning African artist Georges Adéagbo's new exhibit at President Lincoln's Cottage, and create your own self-portrait (Sat, free, Northwest DC). Children can learn about feelings and emotions at the National Children's Museum's "XOXO: An Exhibit About Love & Forgiveness" (through May 14, $16, Downtown). Go ice-skating at Cameron Run (Sat, $12+, Alexandria). Watch a screening of Encanto (Sun, free, Northeast DC).
Get involved. Network with young professionals at a Winter Happy Hour hosted by care provider SOME. You can donate scarves, hats, and gloves at the event. Also, the ticket cost covers light appetizers, a door prize raffle, and a tax-deductible donation (Thurs, $20, Northwest DC).
If you enjoyed these events, please don't forget to share this post with a friend on social media, and sign-up for our newsletter for more things to do.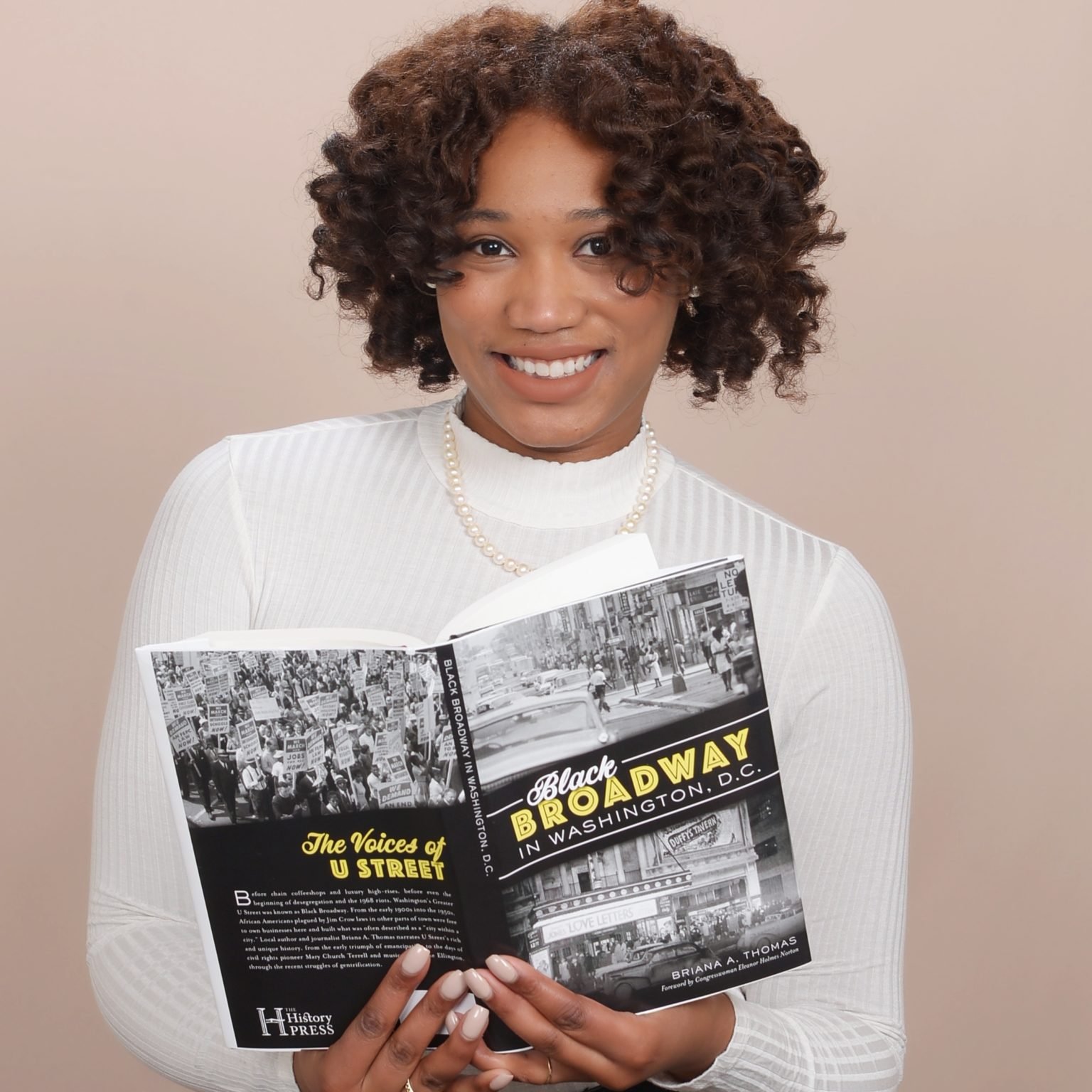 Briana A. Thomas is a local journalist, historian, and tour guide who specializes in the research of D.C. history and culture. She is the author of the Black history book, Black Broadway in Washington, D.C., a story that was first published in Washingtonian in 2016.