Free Britney supporters and Swifties now have a common foe: Ticketmaster.
Written by Jessica Ruf | Published on
A Free Britney rally from 2021. Photograph courtesy of Mike Maguire/Flickr.
What do Senator Amy Klobuchar, Britney Spears, and Taylor Swift have in common? We're so glad you asked!
Roughly a year-and-a-half after Britney Spears was released from her father's conservatorship, DC's Free Britney advocates are now protesting another cause: what they—and others like Klobuchar—say is a monopoly held by Ticketmaster. 
This coming Tuesday at 10 a.m., a small organization known as Free Britney America will host a protest outside the US Capitol at the corner of Constitution Avenue NW and First Street NE, where they'll urge Congress to break up the ticketing giant.
At this point, you may be wondering—what type of beef can Free Britney fans possibly have with Ticketmaster? (After all, Spears hasn't performed live since 2018.) Apparently, the bad blood can be traced back to 2010 when Ticketmaster merged with Live Nation, another ticketing behemoth that the protest's organizers, Melanie Carlson and Cassandra Dumas, say profited from Spears's conservatorship. 
"Our research into Britney's conservatorship found that Live Nation was a central player in monetizing her abusive conservatorship," says a statement from Carlson and Dumas included in a press release announcing the protest. "Furthermore, we assert that the inordinate power that Live Nation has across the music industry secures a culture of silence around the abuse of Britney Spears and other artists."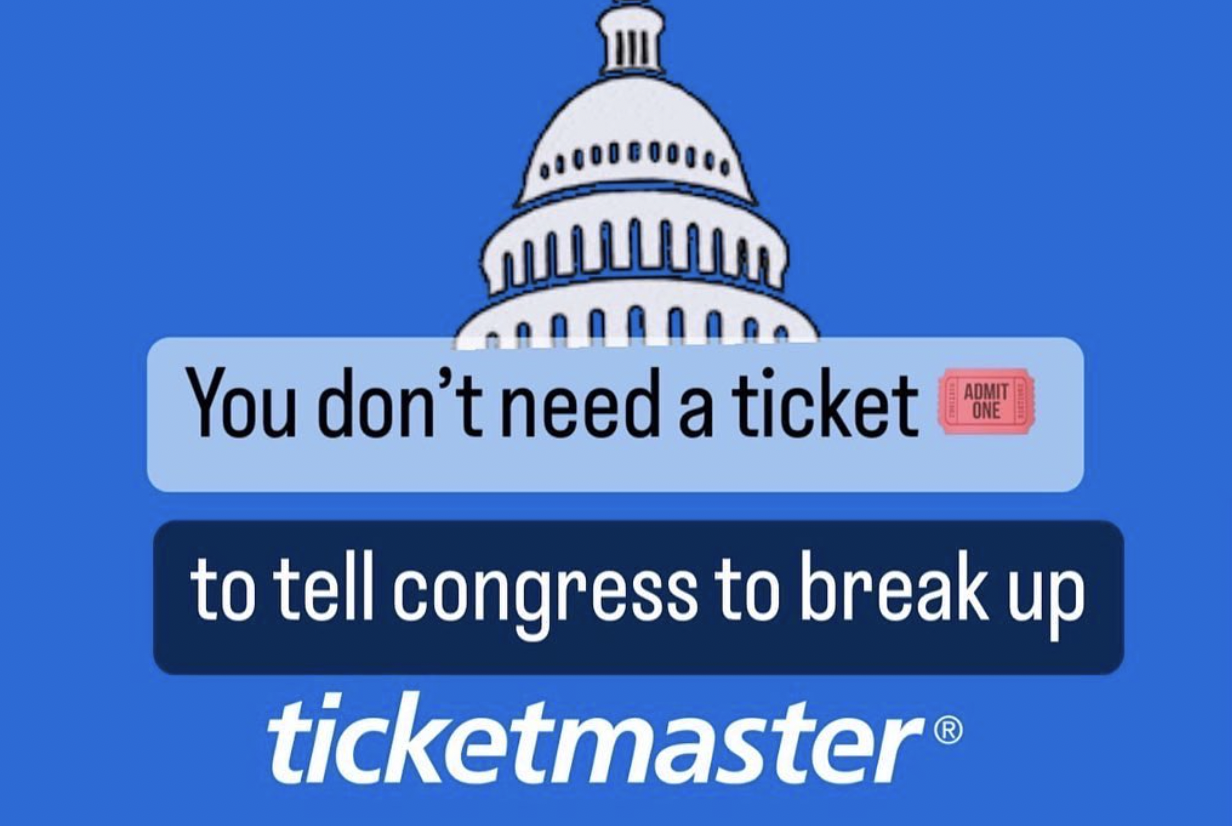 But Live Nation's treatment of Spears isn't why it's currently under Congressional scrutiny. During Tuesday's upcoming protest, the Senate Judiciary Committee will revisit the two companies' 2010 merger and analyze the lack of competition within the ticketing industry during a hearing titled "That's The Ticket: Promoting Competition and Protecting Consumers in Live Entertainment."
The hearing was largely prompted by a somewhat recent debacle involving  Taylor Swift and her devoted fanbase of Swifties. Last November, Ticketmaster's site appeared to either crash or freeze for an overwhelming number of fans as they tried to buy tickets for the singer's upcoming The Eras Tour. Meanwhile, as the fiasco was unfolding, resale sites were selling tickets for thousands of dollars.
"The issues within America's ticketing industry were made painfully obvious when Ticketmaster's website failed hundreds of thousands of fans hoping to purchase tickets for Taylor Swift's new tour, but these problems are not new," says Klobuchar in a press release announcing the hearing. "For too long, consumers have faced high fees, long waits, and website failures, and Ticketmaster's dominant market position means the company faces inadequate pressure to innovate and improve."