A long-vacant Georgetown space becomes a thrilling French hot spot
Written by Ann Limpert | Published on
L'Avant-Garde brings a glam dining room—and culinary gravitas—to Georgetown. Photograph by Scott Suchman .
The Guards, the M Street bar and restaurant that closed in 2012 after nearly five decades, was pretty bleak in its later years. But for a stretch, it served a starry clientele that included socialites, politicos, and at one point, Elton John. In December, a French restaurant called L'Avant-Garde opened in its place, hoping to bring some excitement back to the room—and to the neighborhood of Georgetown.
---
---
If, like me, the last time you were inside the space involved a pre-Y2K Miller Lite, prepare to be stunned. The faded, saloon-like decor has been replaced by sleek coppery banquettes, flatteringly moody lighting, and a huge wood-burning fireplace. Gilles Epié, the telegenic Frenchman known in his home country as the "rock-star chef," is behind the menu.
The pandemic success of Le Diplomate, the Logan Circle restaurant famous for its reliably tasty—but not terribly exciting—bistro lineup of onion soup, garlicky escargots, and the like, has had me worried that Washington is in for a slew of imitators. This is not one of them. If anything, it calls to mind the elegant simplicity of superstar chef Alain Ducasse's late DC dining room, Adour.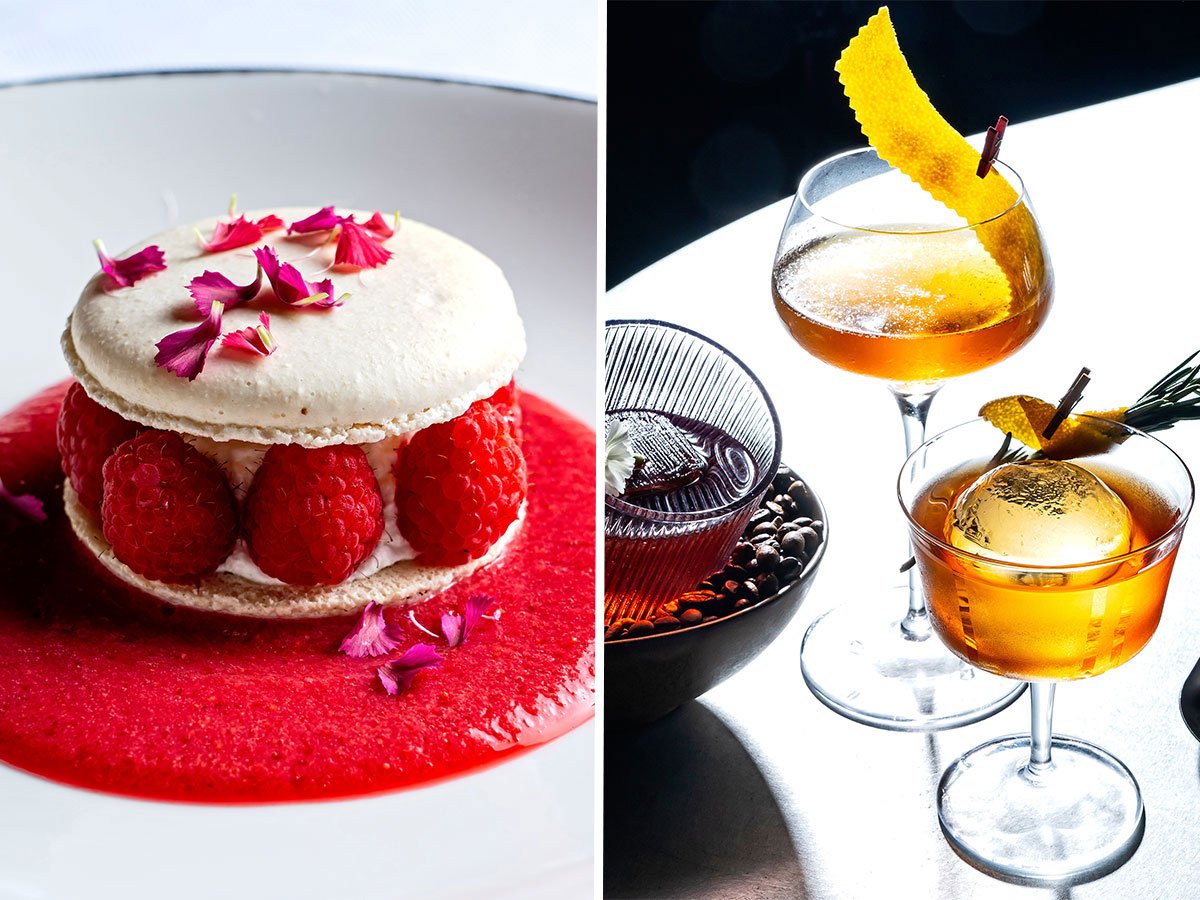 Take the lone salad on the menu: an entire head of Salanova lettuce, grown to Epié's specifications. The soft and tender leaves glisten with a honeyed vinaigrette and are showered with Parmesan. It sounds simple, but there's no better salad in the city right now. On the richer end of the starters list is a lovely caramelized, crackly beignet plump with foie gras, as well as a generous arrangement of herring-style marinated salmon and potatoes.
"You'll smell the ginger before it hits the table," says our server about a cut of St. Pierre, the mild white fish otherwise known as John Dory. He's right, and while the dish is light and bright, it was bested at our dinner by the Chateaubriand, a juicy tenderloin served with a peppery sauce and crisp disks of pommes Anna.
---
---
Cocktails and desserts are showstopping bookends. The bar's smooth version of a dirty martini is briny with caper berries, not olives, while a gimlet arrives with whiffs of coconut and basil. And pastry talent Stéphane Grattier, also in the kitchen at nearby Boulangerie Christophe, sends out a boozy baba au rhum with fluffy cream and a gorgeous oversize macaron filled with raspberries.
L'Avant-Garde, 2915 M St., NW.
This article appears in the March 2023 issue of Washingtonian.
Executive Food Editor/Critic
Ann Limpert joined Washingtonian in late 2003. She was previously an editorial assistant at Entertainment Weekly and a cook in New York restaurant kitchens, and she is a graduate of the Institute of Culinary Education. She lives in Logan Circle.