Front Page Podcast
Question of the Day
Should Donald Trump sign the RNC loyalty pledge?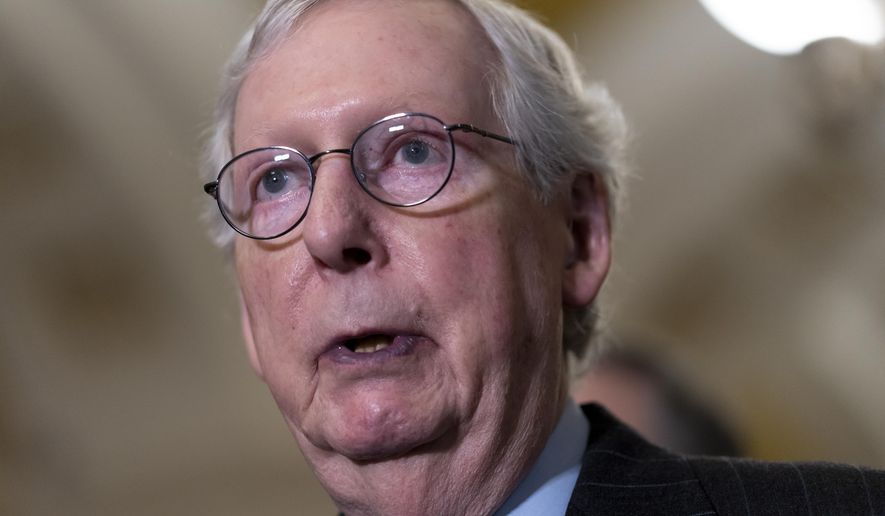 By Tom Howell Jr. – The Washington Times – Thursday, March 9, 2023
Senate Minority Leader Mitch McConnell suffered a concussion after tripping and falling at a dinner late Wednesday and will be away from Capitol Hill for multiple days, his office said Thursday.
The Kentucky Republican will remain in the hospital during that time for treatment and observation, spokesman David Popp said.
President Biden and other congressional leaders are setting aside political differences and wishing Mr. McConnell well after the incident.
"The leader is grateful to the medical professionals for their care and to his colleagues for their warm wishes," Mr. Popp said.
Mr. McConnell's office notified the public about his fall in a statement shortly after midnight Thursday.
Punchbowl News reported the incident took place at the Waldorf Astoria hotel in Washington.
The 81-year-old senator fractured his shoulder in 2019 after a fall at his Kentucky home.
Mr. McConnell suffered from polio as an infant, leaving him with a mild limp.
Click to Read More and View Comments
Click to Hide