Choose between walking tours, bus tours, boat tours, and more.
Written by Keely Bastow | Published on
Peak bloom will be here soon, and you can embrace the season not just by seeing Washington, DC's famous cherry blossom trees but also by learning about their historical and cultural significance on these cherry blossom tours while you walk, bike, or ride around the Tidal Basin.
Walking tours
Bloom on the Basin
During peak bloom this tour will take you from the Martin Luther King Jr. Memorial around the Tidal Basin and to Jefferson Memorial. You'll be told about the history of the trees and be shown hidden gems along the way. The tour is $35 for adults, $20 for children above 5, and free for kids under 5. Tickets can be purchased online, and the tour begins at the Martin Luther King Jr. Memorial Bookstore, 121 West Basin Dr., SW.
DC by Foot
This name-your-price tour will take guests from the DC War Memorial through the Martin Luther King Jr. Memorial, Roosevelt Memorial and end at Jefferson Memorial from March 17 to March 31. The tour will be 1 1/2 hours and will explore these three men and their great ideas while giving you the perfect opportunity to take pictures of the breathtaking blossoms. The company will add dates for the tour at the beginning of March. The tour group will meet at the District of Columbia War Memorial in Ash Woods.
Bike tours
Blossoms by Bike 
Unlimited Biking has a seasonal two-hour bike tour that takes you around the Tidal Basin, the National Mall, and East Potomac Park. From March 17 to April 16 it will run tours at 10 AM and 2:30 PM daily. Tickets start at $44 and can be purchased online, and bike rentals are included. The tour will meet at Unlimited Biking's storefront at the Wharf, 998 Maine Ave.
E-Mile's Cherry Blossom Tour
E-Mile has created a brand-new app-guided tour for customers to tour the monuments at their own pace. The tours, which will roll out mid-March, will allow customers to choose from a variety of pre-planned tours, including a cherry blossom tour. Bluetooth and GPS tracking help direct customers and announce historical information for each site.  E-Mile's bikes and scooters come equipped with a phone holder, a cup holder, and turn signals, and they can be picked up downtown or at select hotels. A two-hour rental costs $50, and reservations can be made online.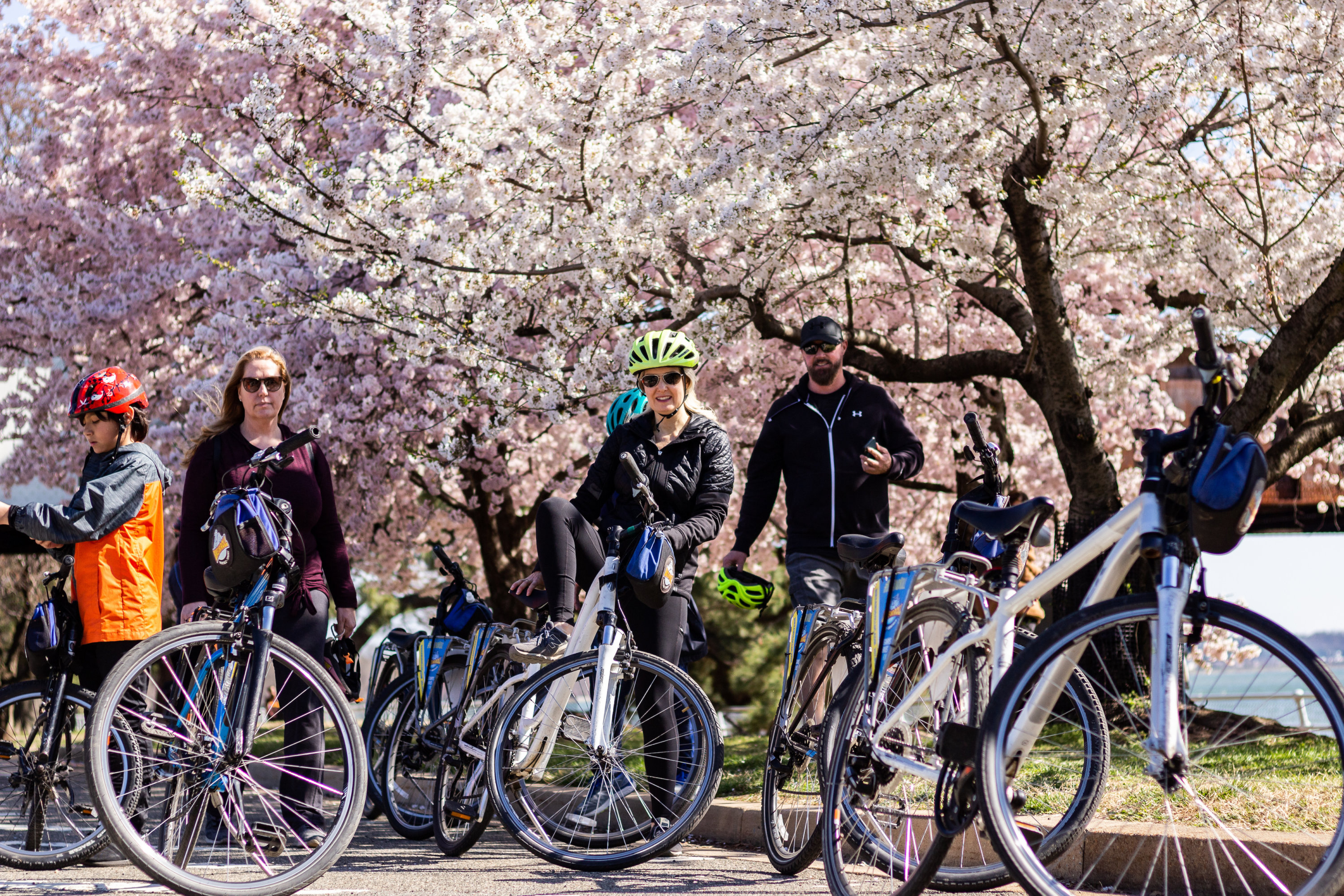 Bus tours
Cherry Blossoms Galore Tour 
Give your feet a rest while this four-hour tour takes you around the monuments (though you'll get time to stroll around the Tidal Basin and take pictures). You'll hear about the history and cultural significance of the cherry blossoms and enjoy unbeatable views in a climate-controlled bus. The tour runs from March 17 – April 17. Tickets are $59 for adults and $49 for children and can be purchased online. The tour meets at the US Capitol West Front, First St., SE.
Big Bus tours
While this company doesn't have a dedicated cherry blossom tour, Big Bus offers visitors an easy and flexible way to see the sights. The open-air top deck allows you to snag great photos along the way, but you can also hop off for a photo shoot and hop back on when the next one comes. They have stops at the Lincoln Memorial, the Martin Luther King Jr Memorial, and the Thomas Jefferson Memorial and will be sharing facts about the cherry blossoms along the way. Tickets for a one-day pass are $49 for adults and $39 for children and can be purchased online. Plan your own pick-up and drop off points from their 13 stops.
Boat tours
Cherry Blossom Water Taxi
Travel on the Potomac in full bloom. The water taxi route goes from the Wharf to Georgetown, Old Town Alexandria, and National Harbor. Buy tickets for any of the docks and ride to any of the others. From March 18 to April 17 routes run seven days a week at various times. One-way tickets are $23 for adults and $19 for children. Infants two years old and younger ride free. Tickets can be purchased online.
Cherry Blossom Brunch Cruise 
Enjoy a brunch buffet and bottomless mimosas on this two-hour cruise around the Potomac. Semi-formal dress is encouraged, and the cruise boards at 10:30 AM every Saturday and Sunday from March 25 to April 16. Tickets range from $80-100 and can be purchased online. The cruise boards at 580 Water St., SW.
Embark Private Cherry Blossom Tour
Have the views all to yourself with a private boat tour. Embark's boats can fit up to six people, but more boats can be requested for larger groups. The tour lasts 90 minutes and highlights the Washington Monument, Lincoln Memorial, Jefferson Memorial, and the Kennedy Center among others. Private tours start at $675 and can be booked online. There are nine different pickup locations available in Georgetown, the Wharf, the Yards, Columbia Island, Old Town, National Harbor, and Mount Vernon.
Cherry Blossom Sightseeing Cruise
From March 26 to April 17, take a 45-minute-long cruise. They run on the hour from 12 to 6 PM daily. Passengers will see the Kennedy Center, Key Bridge, Memorial Bridge, Roosevelt Island, the Washington Monument, the Jefferson Memorial, the US Capitol, the Watergate, and the Lincoln Memorial.  Tickets are $25 for adults and $15 for children and can be purchased online. The pickup location is 3050 Water St., NW.
Other tours
Morning Light on the Cherry Blossoms 
Photographers at any level can join Washington Photo Safari owner E. David Luria for an early morning photo shoot of the cherry blossoms. Photographers will meet at 6:15 AM to prepare for sunrise. The group will walk around the Tidal Basin, photographing the Jefferson Memorial, the FDR Memorial, the Washington Monument, and the Martin Luther King Jr. Memorial with the cherry blossoms in the morning light. The shoot, with various dates available between March 25 and April 5, will last just over two hours and cost $99. Tickets can be purchased online. The group will meet at 1500 Maine Ave., SW.
Cherry Blossom Kayaking Tour
Take in the blossoms from a kayak while learning about the history of the trees in this one-and-a-half- to two-hour tour. Tours will take place at 5 PM on Fridays, at 9 AM and 4 PM on Saturdays, and at 9 AM on Sundays from March 24 to April 8. Tickets can be purchased online and are $70.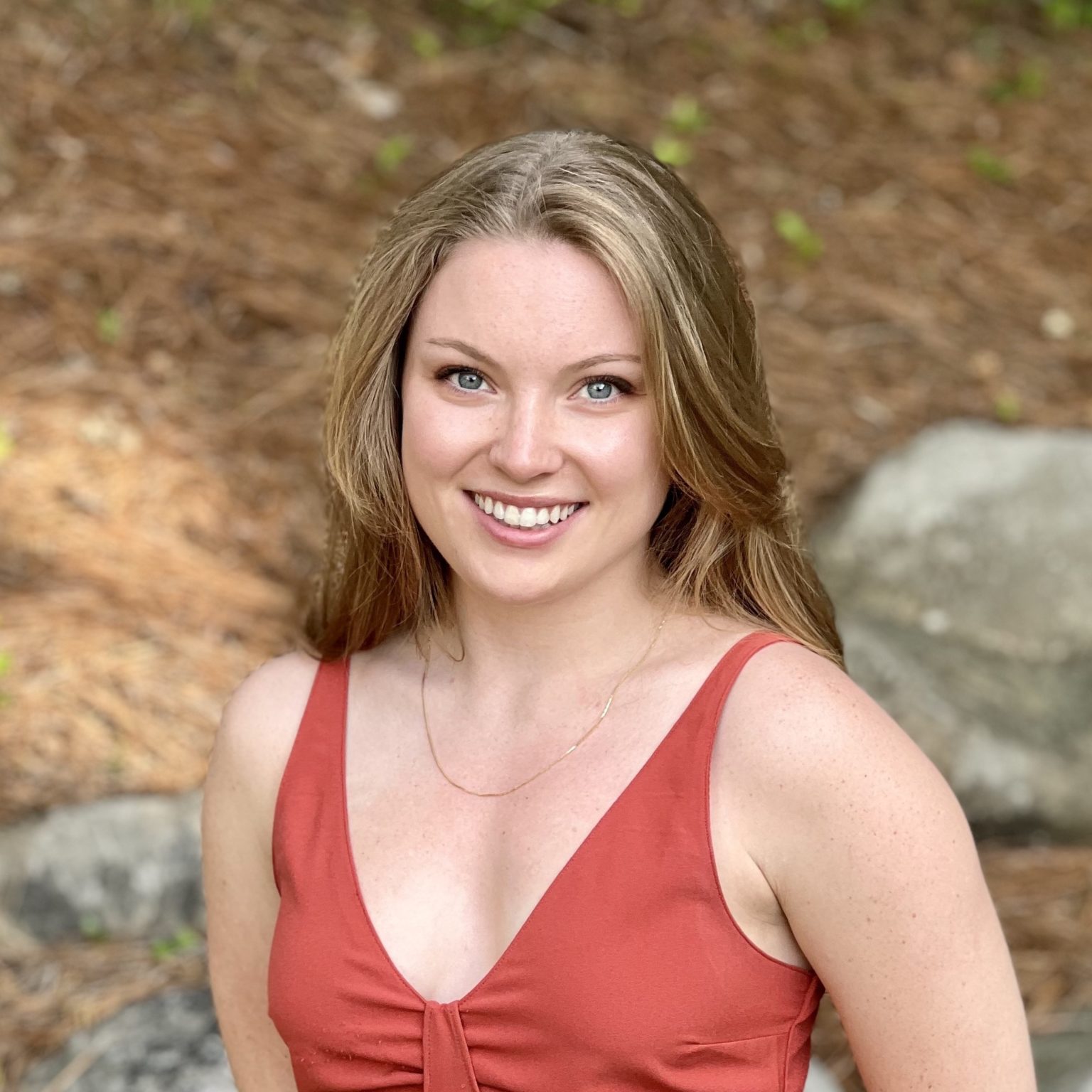 Editorial Fellow
Keely recently graduated with her master's in journalism from American University and has reported on local DC, national politics, and business. She has previously written for The Capitol Forum.