The home design trend taking over bar carts near you.
1. Ginger "Rialto" glass coupe, $75 for a pair, libbyandmy.com
2. Green Vaseline-glass coupes, $700 for ten, The Hour (Alexandria)
3. Amethyst cordial glass, $200 for eight, The Hour
4. Turquoise Biot juice glass, $35, A Mano (Georgetown)
5. Estelle amethyst stemware, $85 for pair, vividchill.com
6. Amber "Deco" cocktail glass, $48 for a pair, Salt & Sundry (Northwest DC)
7. Ruby-red "Addison" goblet, $40 for a pair, libbyandmy.com
8. Orange Biot pitcher, $225, A Mano
9. Dark-green '70s "Bangle" tumbler, $22, Manse (Alexandria)
10. Ichendorf "Liberta" blue flute, $31, libbyandmy.com
11. Pink-and-blue square-footed cocktail glass, $330 for six, The Hour
---
Multicolored Mixology
How to bring the trend home
Peace out, boring cups and coupes: Colored glassware is having a moment. If you're on home-design TikTok (the tag #coloredglass has 6.4 million views), you've likely seen an influencer sipping out of a jewel-toned flute or a bar cart topped with rainbow-hued wineglasses.
Of course, such glassware isn't new—candy-colored Depression glass came about in the late 1920s, for instance. But the pandemic spurred a renewed interest, says Victoria Vergason, who owns The Hour, an Old Town vintage-­glassware store: "We have been in this cycle of ups and downs with our economy and being at home, and people rediscovering cocktails and now mocktails," she explains. "They want to drink something in a fun glass at home, and they want it to be pretty."
Looking to start your own collection? No need to buy a set that's all the same style and height, says Vergason—pick a color, like pink, then mix and match shapes including goblets, flutes, and coupes. You don't even have to stick with the same shade: All pastels look great mixed together, she says (and it'll be easier for guests to remember which glass is theirs).
When shopping for older pieces, always buy more of one style than you think you need, says Libby Rasmussen, whose DC-based home-decor shop Libby & My carries vintage glassware. If a hard-to-find item breaks, you'll have extra. Also important: Check the rim for chips or cracks before purchase.
A bonus: Showcase your glassware in your kitchen or on a bar and you've got an instant art display. "It's such a small thing that can make you feel really polished and really make your home [and] hosting experience," says Rasmussen.
---
More Is More
Colored glass isn't just for sips—here are some other on-trend items you can add to your collection
Glass spoons $45 for a pair, hay.com
---
---
Photographs courtesy of retailers.
This article appears in the January 2023 issue of Washingtonian.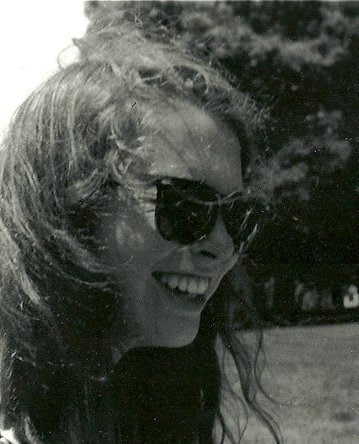 Home & Features Editor
Mimi Montgomery joined Washingtonian in 2018. She's written for The Washington Post, Garden & Gun, Outside Magazine, Washington City Paper, DCist, and PoPVille. Originally from North Carolina, she now lives in Del Ray.