Also inside: Lots of peel-and-stick wallpaper and art.
Photograph by Emily Carter.
Emily Carter is a restaurant server and self-proclaimed "wine nerd" who lives in Lanier Heights with her cat, Hufflepuff. She's been in her one-bedroom, one-bath, 650-square-foot rental for a little over a year.
Carter's space is filled with plants, peel-and-stick wallpaper, and art. "I wanted a space that was a direct reflection of myself and a way to express my personal style and who I am," she says.
Here, we chat with her about her space:
What was your inspiration for your home's aesthetic?
"I think all of my rooms have a slightly different aesthetic to them; they're all little parts of me and how I was feeling at the time. If I had to sum my aesthetic up, I would land on queer, eclectic maximalism, which is essentially my vibe. Art, nature, and food are all huge parts of me, and I think that's reflected in my space.
What's the biggest splurge you've purchased for your home?
"I'm a thrifty girl. Most of my apartment consists of odd little pieces I've picked up here and there. My couch was probably my biggest splurge. I really, really wanted an orange velvet couch and, after poking around for months, I finally committed to buying a new one and I love it.
What was the best deal you've received on an item for your home?
"I found two of the pieces of art now in my house for free on the side of the road. I chalk that up to luck.
What are your favorite DIYs in the house?
"I've now done three wallpaper projects and they all bring me so much joy. Wallpapering—temporary in my case—is not an easy task, even the peel-and-stick ones. But I find those kinds of projects incredibly rewarding. I love a project where you can put on your favorite podcast or listen to an entire album all the way through and just be completely focused on the task in front of you.
What's your favorite part of the house?
"My sun room. I picked this apartment because of that room. I love how much light it gets, and I love my view of Lanier Place NW. I make a lot of art and I'm a huge reader, so my favorite spot in the whole apartment is my chair by the windows. I almost always keep them open—I love listening to the street. My plants also love that room.
What's your favorite item in your home?
"I love my disco ball from Libby & My. I love [owner] Libby Rasmussen's aesthetic. I always get inspo from her. The disco ball is just so fun and playful.
What's your favorite thing to do in your home?
"I love cooking and baking. When I first moved into this apartment, the one con was the size of the kitchen. I always found myself qualifying to friends 'I love my apartment, but the kitchen is so tiny.' Recently, I decided I wanted to change that narrative. As a person who spends a lot of time in my kitchen, I wanted to love it. New wallpaper on the cabinets, a couple pops of color, and mission accomplished. It's a whole new room, and I love it.
Who would your top-three guests be for a dinner party at your home?
"My best friend, Miles, because they're a chef and a wine nerd, too, and we make the best hosts. Kelsey McKinney, who hosts the Normal Gossip podcast, because I feel like she has the best stories and I want a little chaos. And Melissa Febos because she is a brilliant writer and I would love to hear her talk."
This interview has been edited and condensed for clarity.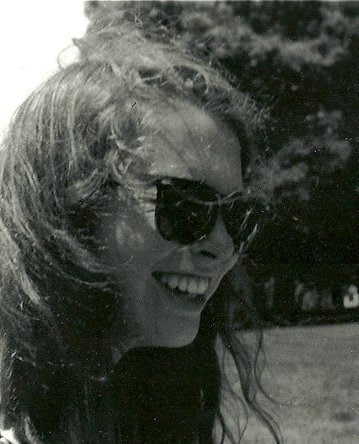 Home & Features Editor
Mimi Montgomery joined Washingtonian in 2018. She's written for The Washington Post, Garden & Gun, Outside Magazine, Washington City Paper, DCist, and PoPVille. Originally from North Carolina, she now lives in Del Ray.