The new Speaker of the House won the lottery, inspired a TV antihero, and rented from Frank Luntz.
Photo courtesy of World Economic Forum via Creative Commons, licensed under CC BY-NC-SA 2.0.
Following Kevin McCarthy's much-covered, much-discussed 15-vote pizza eatin' odyssey to become Speaker of the House, you might think you know everything there is to know about the Republican Congressman. Guess again! While most of the articles and reports on McCarthy have focused on his career in politics—which dates back to the late 1980s—other aspects of his life have flown under the radar.
Here are three things about McCarthy that might surprise you.
Kevin Spacey Shadowed Him as Research For House of Cards 
To prepare for his role of Frank Underwood, the ruthless House Majority Whip in Netflix's hit series House of Cards, Kevin Spacey tailed McCarthy around the Capitol ahead of the show's 2013 debut. 
Luckily for McCarthy, the tour did not include a visit to a Metro station platform. 
McCarthy, who served as House Majority Whip from 2011 to 2014, was initially reluctant to meet with Spacey—but reportedly changed his mind upon learning the character would be a Democrat. He soured a bit on his choice after the show aired, though, telling People that Spacey lifted his message to fellow Congressional members for a line on the show: "Vote your district. Vote your conscience. Just don't surprise me."
Spacey reflected on his time with McCarthy in a 2014 interview with John Stewart: "I don't envy him the position. It's not easy." The actor went on to describe meetings between McCarthy's colleagues as "performance art" with "bad actors."
For his part, McCarthy found one of the show's scenes—in which Spacey's character kills a dog to end its suffering—so disturbing that he clarified to Business Insider that he and his colleagues do not, in fact, murder animals.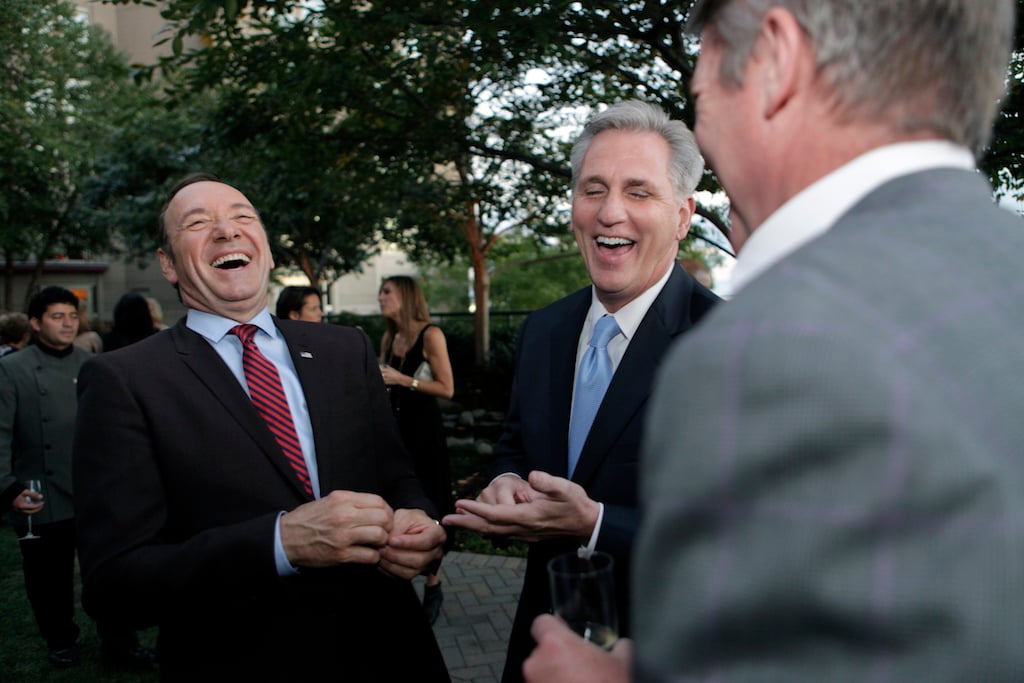 He Won the Lottery, Then Opened a Deli Counter Called "Kevin O's Deli"
According to the Washington Post, McCarthy was attending community college in the mid-1980s when he defied 40,000-to-1 odds to win $5,000 in the California State Lottery. He invested the majority of his winnings into a single stock—for Fur Vault, a company that sold discount furs—earned what he claims was a 30 percent return in a few months' time, and then used his windfall to open a deli. 
Officially called "Kevin O's Delicatessen," the small business was located inside his aunt and uncle's frozen yogurt shop. A 1986 review described the deli as "only a counter and refrigerator in McCarthy's dining room"—but regardless, McCarthy says that profits from the deli and its eventual sale enabled him to pay for the rest of his college education. Former employee Michelle Willow described the shop as successful and working there as "a great experience."
Though McCarthy recalls paying taxes, arguing with the city over signage, and preparing for food inspections, some details about the business remain murky. The California Department of Tax and Fee cannot locate any ownership or sales records for the shop, and the Washington Post similarly could not find any official documents.
McCarthy has repeatedly discussed the deli over the years, often citing it as the beginning of his interest in Republican politics. In 2003, he told the Los Angeles Times that the burdensome taxes and paperwork he encountered as a small business owner shaped his belief in limited government. 
He Rented a Room From Pollster and Political Strategist Frank Luntz
Like many powerful Capitol Hill insiders whose political support depends—at least partially—on being seen by voters as an outsider, McCarthy has spoken publicly about not wanting to "become Washington." 
"I go home every weekend," McCarthy told Chris Wallace in 2014. "I don't want it to be comfortable. I don't want to have to worry about my roof in Washington, the school district in Washington."
As part of his principled commitment to not worrying about the people of a city that he and other members of Congress nevertheless wield tremendous power over, McCarthy also claims to sleep on his office couch. However, that wasn't the case in 2021, when he rented a room from Luntz, the longtime pollster and political strategist best known for coaching GOP pols and others to use the terms "death tax" instead of "estate tax" and "climate change" instead of "global warming." 
Claiming he was ousted from his couch by Democrats shifting around office assignments, McCarthy roomed in Luntz's 7,000-square-foot penthouse unit in the Clara Barton building in Penn Quarter for what the Washington Post estimates was at least two months. An unnamed spokesperson for McCarthy told The Daily Wire that McCarthy rented an approximately 400-square-foot room within the penthouse space for $1,500 a month, an amount calculated to be fair market value under House ethics guidelines. 
McCarthy first met Luntz in 1994 when the then-Republican strategist was working on Newt Gingrich's Contract with America. The two have been friends ever since. Discussing McCarthy in a January interview with NPR, Luntz said, "everyone who knows him, everyone, remarks that he's one of the nicest people they've ever met, that he's kind, that he listens and learns, that he knows how to lead."
In May 2021, McCarthy announced plans to return to his office couch after Fox News host Tucker Carlson accused him of allowing Luntz to wield too much influence over him and the GOP. The accusations were largely fueled by Luntz's distancing himself from the party in 2016 and working with corporations Carlson sees as left-wing.