Love is L'Ardente's 40-layer lasagna, offered on their Valentine's Day prix-fixe. Photograph by Mike Fuentes
Here's what the top 25 restaurants on our newly released 100 Very Best Restaurants list have planned for Valentine's Day. The holiday falls on a Tuesday this year—not the sexiest day to dine—so a number of chefs are extending their special menus for Valentine's week. Can't get a reservation at these hotspots? We have pro tips below for getting in the door regardless.
This list includes the top 25 (for brevity and sanity), but we'd be thrilled to eat at any of the incredible top 100 restaurants. Take a look and discover for yourself.
1. The Dabney
122 Blagden Alley, NW
Chef Jeremiah Langhorne's wood-fired Blagden Alley dining room is among the most romantic in DC with its huge, glowing hearth. There are two options for Valentine's Day: a nine-course tasting menu in the dining room ($285 per person) or a four-course prix-fixe at the bar ($135 per person). Can't get a rez? Try the first-come, first-serve bar area for a la carte dining anytime during "Valentine's week." 
2. Albi
1346 Fourth St., SE
We're in love with chef Michael Rafidi's wood-fired Levantine cooking. Can't get a rez? V-Day reservations are sold out. But! His charming, casual Yellow Cafe in Georgetown is open—and surprising your Valentine with beautiful pastries and/or wood-fired pita sandwiches will definitely win them over.
3. L'Ardente
200 Massachusetts Ave., NW
The team behind this glam-Italian near Penn Quarter is smart—a special Valentine's menu will run Friday, February 10 through the 14th, and couples can either choose from the regular menu or opt for an indulgent, five-course tasting menu priced at $250 for two. On tap for specials: caviar martinis, dressed oysters, the famous 40-layer truffle lasagna, stuffed lobster, and more. Can't get a rez? The regular menu of decadent pastas takes out and delivers surprisingly well for a finer dining spot.
4. Happy Gyro
1509 17th St., NW
No need to wait—the Valentine's Day shop is live at chef Johnny Monis's Greek-deli-inspired carryout in Dupont Circle. Fun gifts include packages of their divine Happy Ice Cream and bubbles to match, ice cream telegrams (you'll thank us), and romantic "Valenwines." You'll have to wait until closer to the holiday to order dinner, like Sicilian-esque slices and swoon-worthy gyros. Can't get a rez? There are no reservations! Though plan to order as far in advance as possible—stuff sells out. 
5. Pineapple & Pearls
715 Eighth St., SE
Chef Aaron Silverman's two-Michelin starred tasting room is the kind of playfully luxe place where you may find yourself eating in bedazzled handcuffs (rargh!). Memorable tastings are $335 per person. Can't get a rez? Valentine's is booked, but there's still availability that week. Or you could always try the prix-fixe at slightly more casual neighbor, Little Pearl. 
6. Inferno Pizzeria Napoleatana
12207 Darnestown Rd., Darnestown
The best pizza in the region isn't fancy, per se, but it's always impressive. We'd be pretty thrilled with a crackly crusted pizza —to stay or take out. Chef Tony Conte is planning a special Valentine's Day-adjacent supper club tasting on Saturday, February 11 with multiple courses of seafood, game, and dessert ($165 per person; reservations here). Can't get a rez? Most nights the restaurant is first come, first serve. The pizza is also delicious for takeout.
7. Sushi Taro Omakase
1503 17th St., NW
The super-intimate omakase room of this longstanding Japanese restaurant lets you have your own personal, master sushi chef for the evening. It also only seats two parties a night—so reservations can be tough to snag. Can't get a rez? The main, larger restaurant isn't as show-stopping, but it's still excellent—plus you can splurge on omakase-style tastings and luxe sashimi boats at the table. The restaurant has also brought back takeout.
8. Causa
920 Blagden Alley, NW
Chef Carlos Delgado's new Peruvian hotspot is is worth the splurge on a six-course tasting with optional add-ons like whole fish imported from Japan. Can't get a rez? V-Day is sold out, but there's availability for the regular tasting at other times. Plus, you could always hole up in the sexy Amazonia bar above for pisco cocktails and share plates.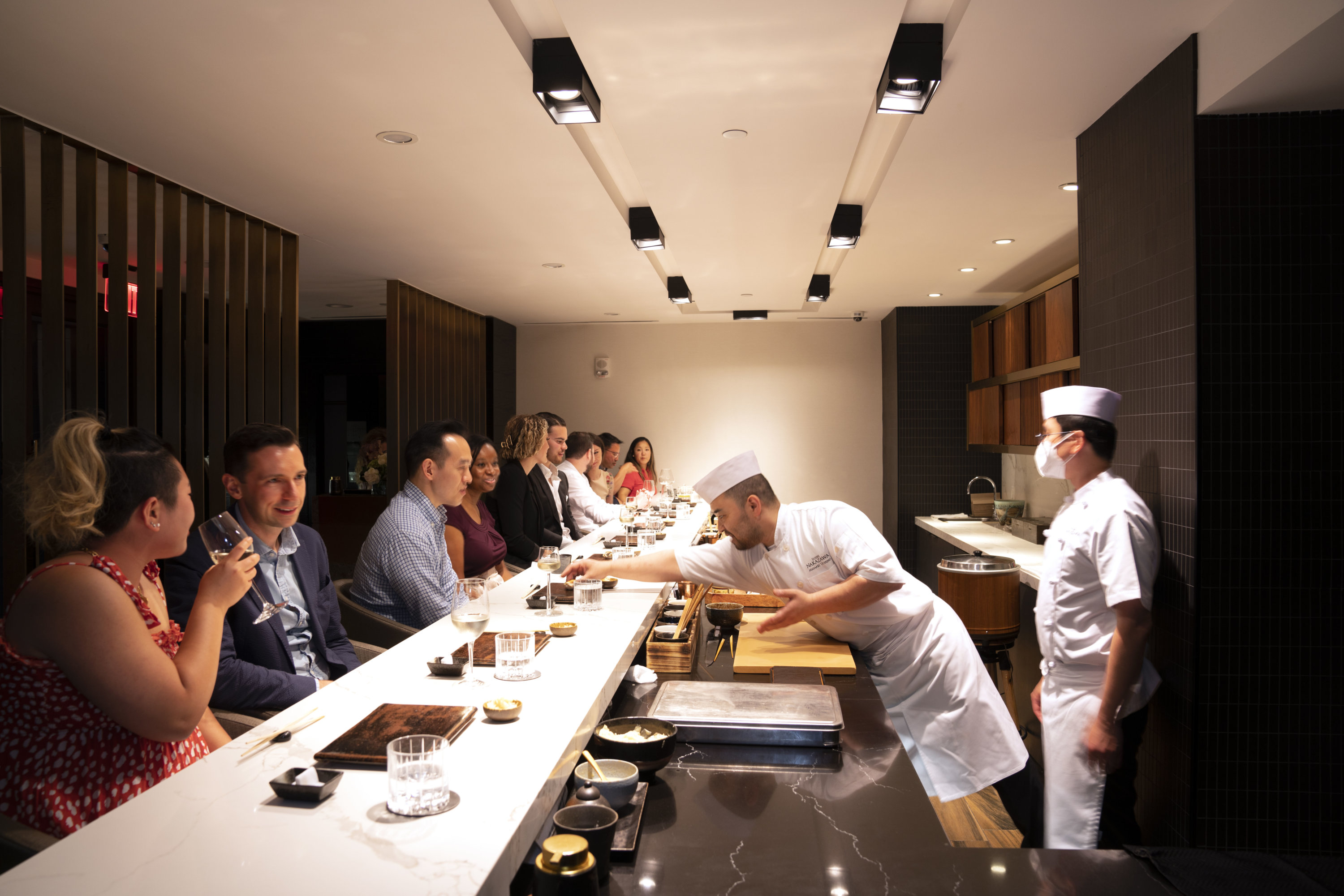 9. Sushi Nakazawa
1100 Pennsylvania Ave., NW
The special $300 Valentine's Day omakase at the sleek sushi counter is booked. The good news: they're offering the same menu—with availability as of now—from Friday, February 10 through the holiday. Can't get a rez? Our favorite hack to get a sought-after seat at the omakase counter: go for an indulgent Friday or Saturday lunch.
10. Xiquet 
2404 Wisconsin Ave., NW
Chef Danny Lledo's transportive Spanish, wood-fired tasting room is going all out for Valentine's Day with copious truffles and treats like rare Denia red prawns (tickets starting at $350 per person). V-Day is booked, but good news…Can't get a rez? The Valentine's Day menu is offered Friday, February 10 through the holiday (with current availability).
11. Daru
1451 Maryland Ave., NE
The spice-fueled, modern Indian restaurant is already a great date spot—and they're doing it up on V-Day with a special five-course menu ($100 per person) with optional pairings ($40). Can't get a rez? The dining room is booked on the 14th, but there are still Tock reservations available at the bar.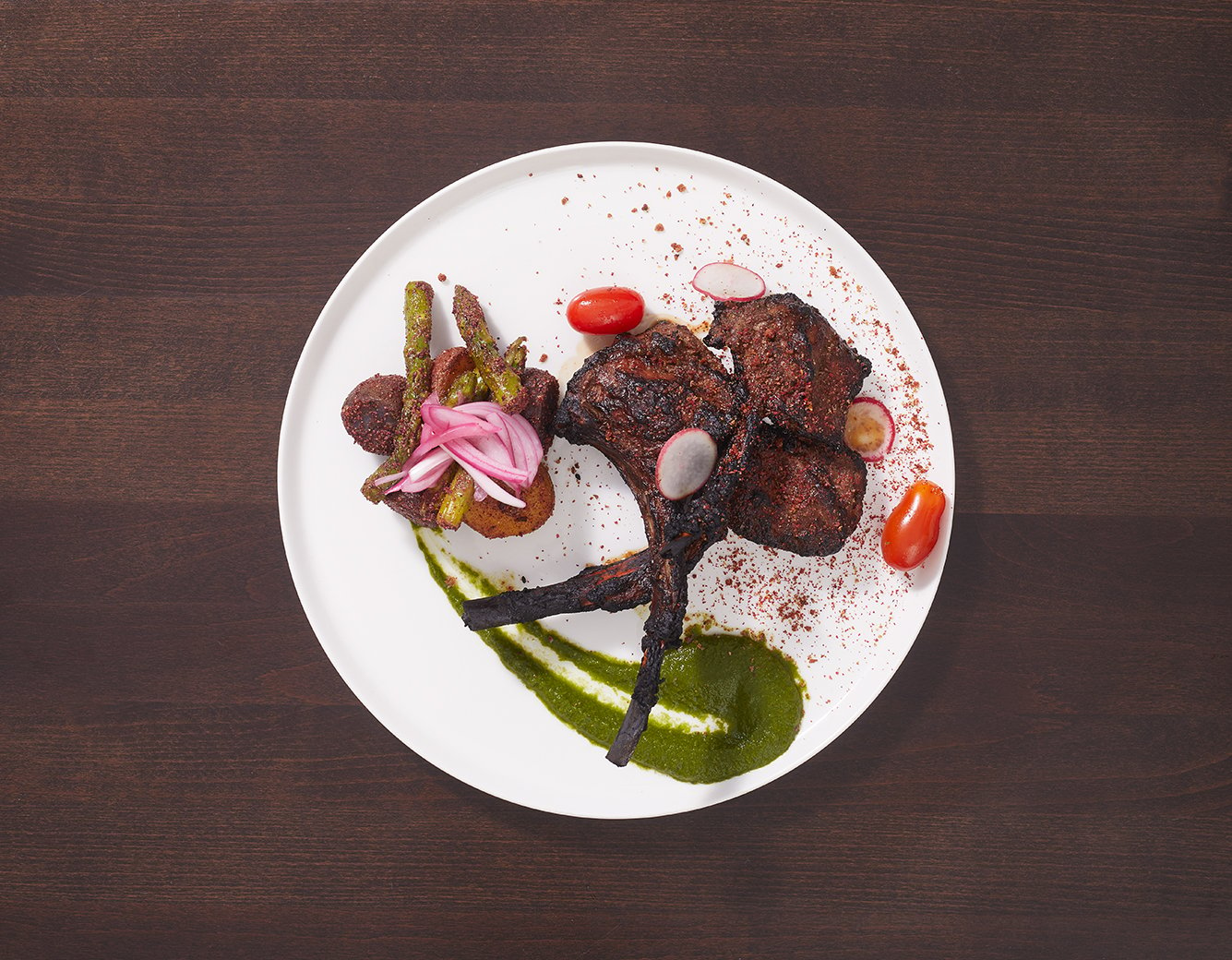 12. The Duck & the Peach
300 Seventh St., SE
The dinner party-esque vibe of this Capitol Hill spot is a draw for dates year-round. Diners can pick between the regular a la carte New American menu on Valentine's Day or a special $150 prix-fixe with treats like a seafood plateau, rotisserie duck for two, and optional wine and Champagne pairings. Can't get a rez? There's availability as of now, but if you can't get in the dining room, we're in love with the duck fat burger at the bar.
13. Anju
1805 18th St., NW
The Korean gastropub's six-course Valentine's Day menu looks as fire as their homemade kimchi—think buckwheat noodles with lobster, chili oil, and caviar; soy-brined lamb chops; and banana milk trifle for dessert. Can't get a rez? A la carte items are available in the cozy bar and lounge from 5 to 10 PM.
14. The Inn at Little Washington
309 Middle St., Washington, Va
No surprise, the most romantic restaurant and inn in our region is booked for Valentine's Day. Can't get a rez? What's time, really. The Inn has availability for its regular over-the-top tasting menu on the 15th and 16th. Or hit up the Inn's charming new bistro, Patty O's, on Valentine's Weekend—including a Sunday "bluegrass brunch."
15. Elle
3221 Mount Pleasant St., NW
Valentine's Dinner at the charming Mt. Pleasant cafe and restaurant is sold out (as are surrounding nights). Can't get a rez? True love is bringing your Valentine an Elle breakfast sandwich or pastry in bed. Online orders for daytime here.
16. 2 Amys
3715 Macomb St., NW
It feels like every day is Valentine's Day—in the least annoying, most enjoyable way possible—at the 2 Amy's wine bar, where it's business as usual on February 14 (so go ahead and splurge on a fun wine and the ever-enticing specials).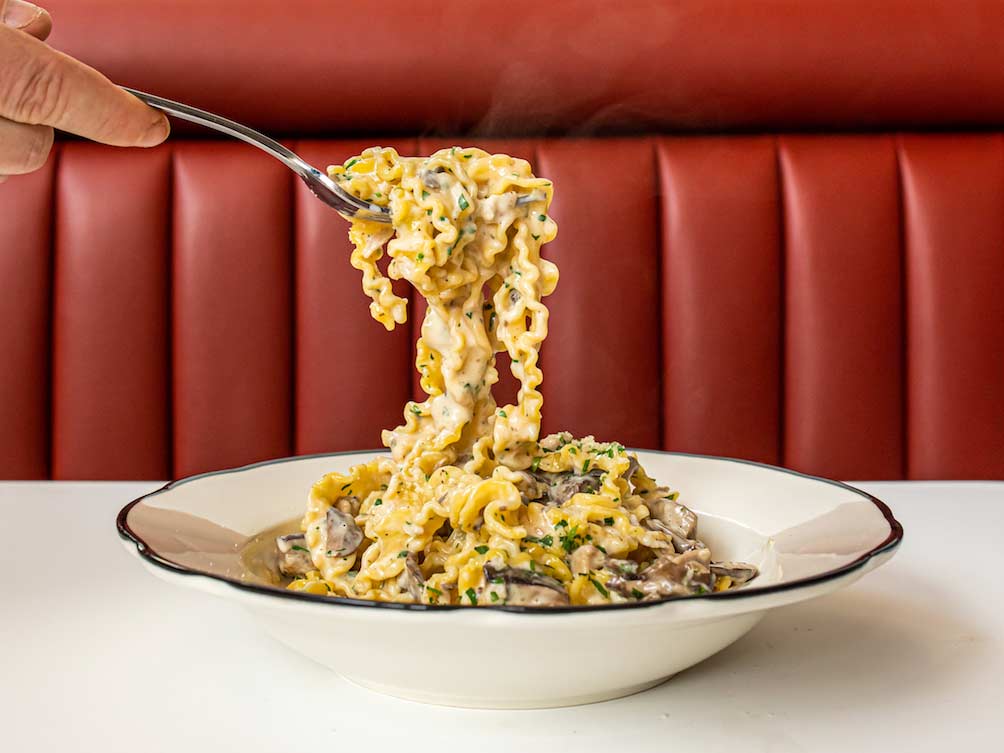 17. Caruso's Grocery
914 14th St., SE; 11820 Trade St, North Bethesda
Cozy up in a red booth and split a scampi at chef Matt Adler's stellar red-sauce joints, which are offering a three-course pre-fixe menu ($95 per person; $40 optional beverages) in DC, and a three-course $70 menu at the new North Bethesda location. Nothing says love like cheesy garlic bread for the table and cover-worthy tiramisu for dessert. Can't get a rez? On Capitol Hill, the intimate bar is always date-worthy.
18. Kinship
1015 Seventh St., NW
Chef Eric Ziebold's elegant New American restaurant is booked for Valentine's Day, but if you're not set on a special prix-fixe, the regularly fancy menu is available for reservations that week. Can't get a rez? A special, pre-paid Valentine's Day takeout option is still available.
19. Elephant Jumps
8110 Arlington Blvd., Falls Church
Chef Songtham Pinyolaksana's Thai standout is among the most casual of the top 100, with thrilling flavors that make for an enticing date spot. The regular menu is on offer—don't miss the banana-blossom salad, duck "cow soy" egg-­noodle curry, and crispy pork-belly sautéed with scallions and fried basil.
20. Convivial
801 O St., NW
Chef Cedric Maupillier's Shaw restaurant is one of our favorite brasseries for superlative onion soup, cassoulet, and little-seen delicacies like pâté en croûte and pot au feu. Can't get a rez? Tables are booked for V-Day, but given there's no different menu (as of yet, try for availability at other times. We also like eating at their walk-in bar.
21. Fiola Mare
3100 K St., NW
Chef Fabio Trabocchi's Georgetown waterfront Italian is always a charmer. In addition to the regular a la carte, there's a special "Valentine's Weekend" menu (Feb. 10-14) with four Venetian-style seafood courses for $225 per person. Can't get a rez? We love a luxe lunch here—much easier to get in, better water views—and the $58 three-course offering is a deal (given dinner entrees alone can cost $58).
22. 2Fifty
4700 Riverdale Rd., Riverdale Park
Surprise your barbecue lover with a wood-smoked wagyu brisket and let the compliments roll in. Pitmaster Fernando González's Texas-style 'cue "with a taste of the tropics" from his native El Salvador is the best in town. There's no special V-Day menu as of now, but we'd suggest pre-ordering online ASAP.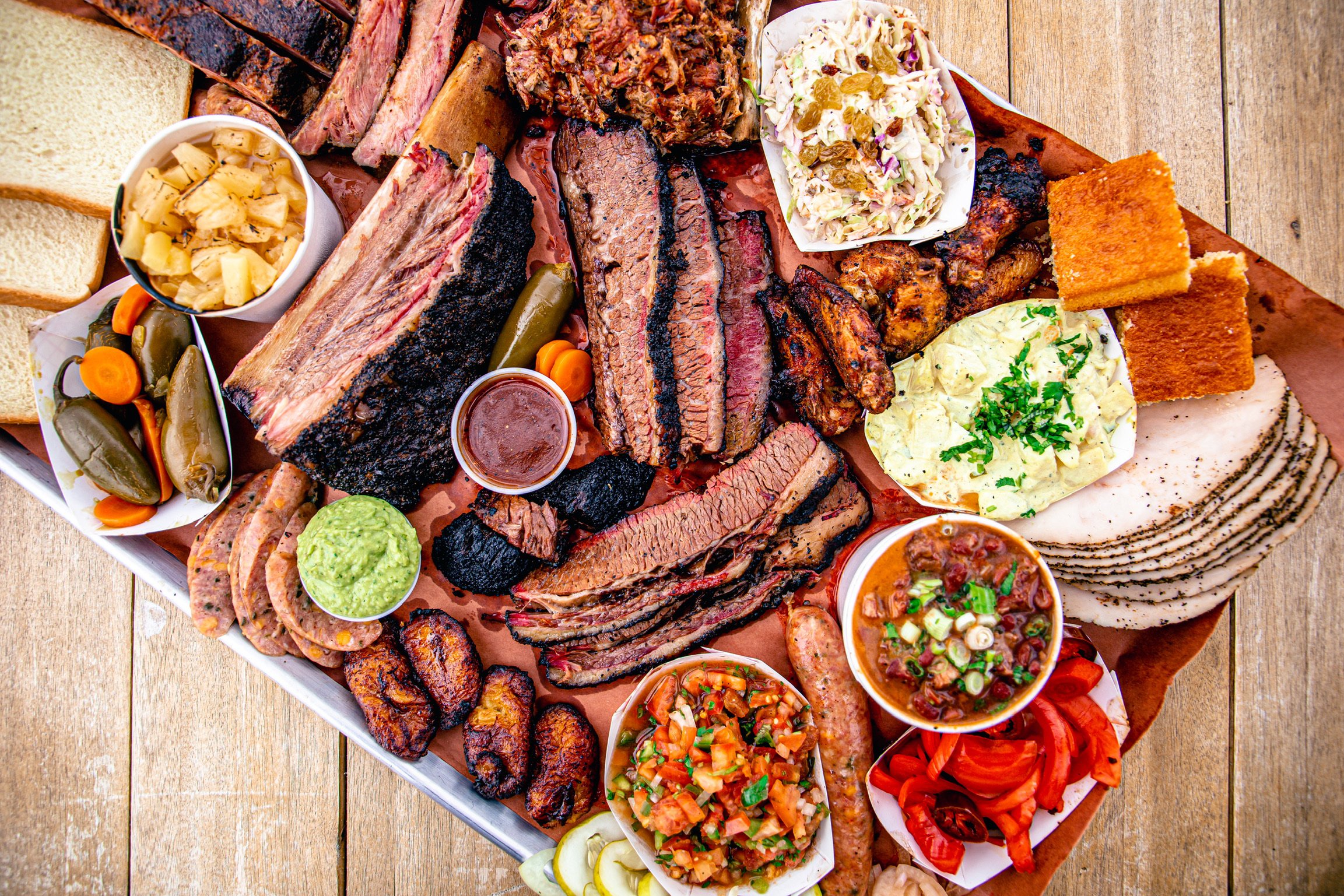 23. Queen's English
3410 11th St., NW
Chef Henji Cheung channels his native Hong Kong at this Columbia Heights gem, while wife/co-owner Sarah Thompson curates a list of delicious natural wines. The regular menu is available with treats like ma la shrimp cocktail, foie gras siu mai, and crispy whole fish. Can't get a rez? There's a cool Bulgarian wine tasting on Feb. 15 (regular menu available) that would serve well for a belated V-Day celebration (tickets are $38).
24. Le Diplomate
1601 14th St., NW
Valentine's Day is trés romantique at Logan's buzzy French brasserie, where well-loved dishes like French onion soup, the warm shrimp salad, and profiteroles are served alongside a la carte specials for the holiday. Can't get a rez? Try walking in to the bar. Or, if your heart isn't set on French food, we also adore sister tavern St. Anselm near Union Market.
25. Sumac
3863 Sperryville Pike, Sperryville
The hyper-seasonal, wood-fired kitchen trailer at Sperryville's Pen Druid Brewing is closed for the winter. You could always snag a gift card for springtime fun in the Shenandoah with your Valentine. It reopens in April.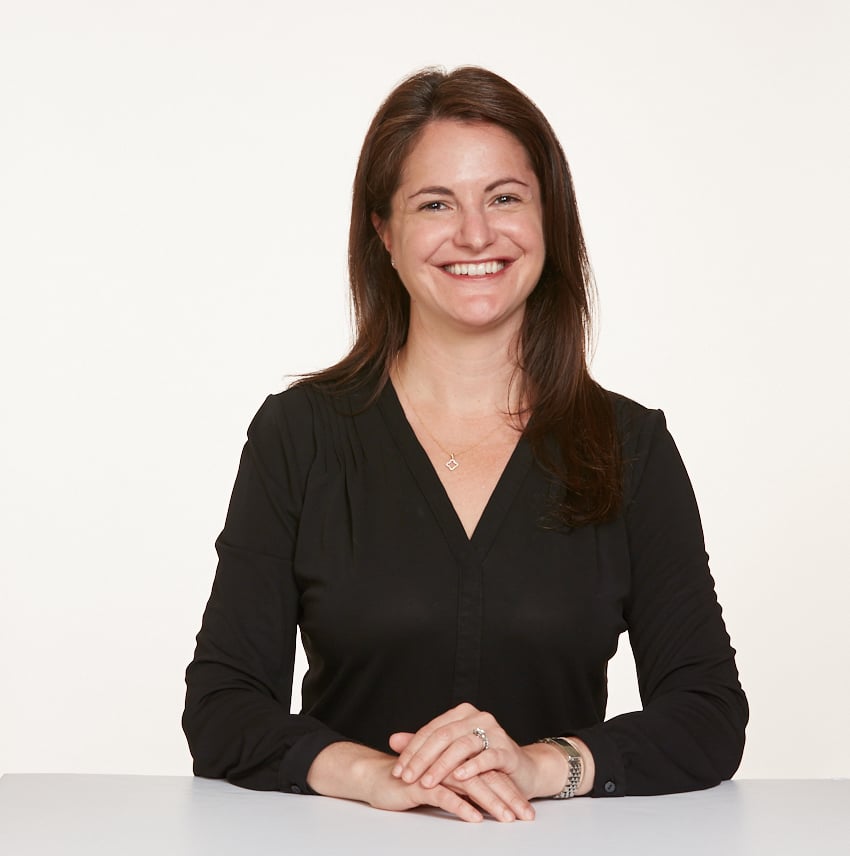 Food Editor
Anna Spiegel covers the dining and drinking scene in her native DC. Prior to joining Washingtonian in 2010, she attended the French Culinary Institute and Columbia University's MFA program in New York, and held various cooking and writing positions in NYC and in St. John, US Virgin Islands.