Wings from Jack Rose Wing Stop. Photo courtesy of the restaurant.
Super Bowl XLVII, the showdown between the Kansas City Chiefs and Philadelphia Eagles, is happening Sunday, February 12. Want to bring more than pigs in blankets to a watch party? Check out these game day takeout options from restaurants around DC.
All-Purpose Pizzeria
 1250 Ninth St., NW; 79 Potomac Ave., SE
The pizza shops are offering wing platters ($18), grandma-style pies ($35), an 18 inch Italian sub ($40), and a platter of Jersey-inspired meatballs ($36). Pre-orders for pick-up are available starting Monday, February 6, and end at 4 PM on Friday, February 10. Email your order here. 
Arepa Zone
2000 Pennsylvania Ave., NW
The Western Market location of this Venezuelan fast-casual spot has a $60 platter with tequeno pops, yucca fritters, and chicken and beef empanadas. Only want the empanadas? You can get party-sized trays of those, too. Pre-order here by February 10 for pick up on February 12.
Brew Belly
18065 Georgia Ave., Olney
We love this beer-centric bar/market for its cheesesteaks, but its Super Bowl package for six ($54.99) doesn't side with Philly fans. It includes two dozen wings, a guacamole kit, a quart of queso, and tortilla chips. Preorder for pick-up on February 12 by calling 240-389-1927.
Brookland's Finest
126 12th St., NE
Cheer on the Chiefs with Shannon Troncoso's barbecue kits. Each package ($75) feeds four, and comes with smoked brisket, pulled pork, Cajun potato salad, coleslaw, buns, and more. Get a six pack of local beers for $15 extra. Pre-orders on Toast begin on Friday, February 3 and end Thursday, February 9.
Chef Matt Baker at Home
1201 K St., NW
Matt Baker, the chef behind Ivy City tasting room Gravitas and downtown DC spot Michele's, is offering platters for four to six ($180); eight to 12 ($285); and 15 to 20 ($500). They include, among other things, biscuits with honey butter; pimiento cheese; vegetable chili; and hot dogs with fixins. There are margarita ($60), michelada ($35), and bloody Mary ($60 to $68) kits, too. Check out the full menu here and pre-order on Tock for pick-up at the Eaton Hotel between February 10 and 12.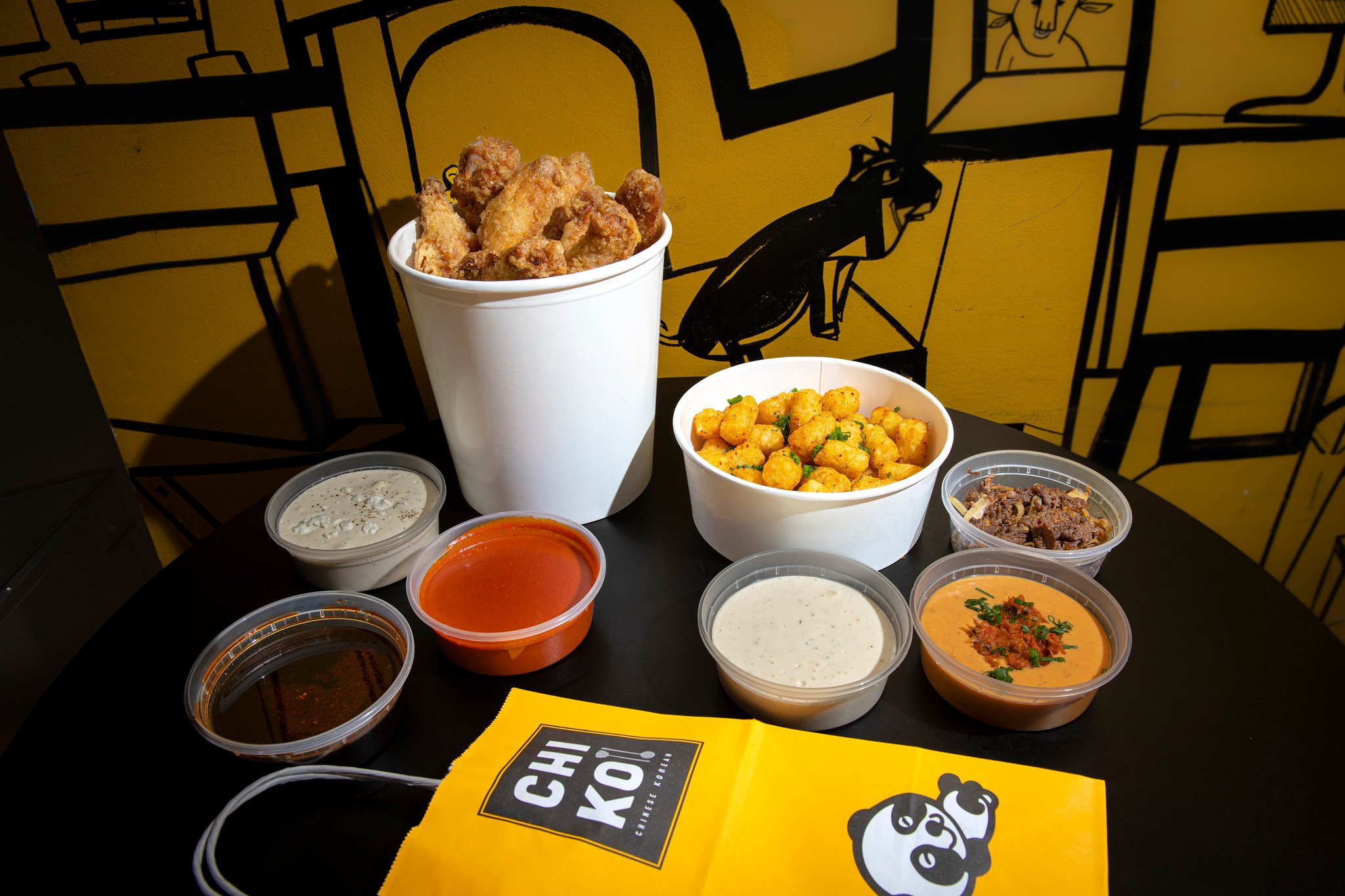 Chiko
423 Eighth St., SE; 2029 P St., NW; 7280 Woodmont Ave., Bethesda; 4040 Campbell Ave., Arlington
There are 20 double-fried wings and all the fixins for a build-your-own bulgogi tater tot bar in the $57 package at these Korean/Chinese fast-casuals. Available for pick-up at each location after 4 PM on February 12. Pre-order on Toast.
Fainting Goat 
1330 U St., NW
Thin, crunchy tavern-style pizza is the draw at this U Street hangout. On Super Bowl Sunday, you can get five pies for $45, along with Eagles-friendly 20 inch subs (roast pork or a fancy cheesesteak, $20 each), and a platter of wings and arancini ($30). Or opt to get everything in one $95 package, which also includes a 12 pack of Jack Daniels and cola. Preorder on Tock by 2:30 PM on Friday, February 10.
Fight Club
633 Pennsylvania Ave., SE
There are two themed offerings planned at this Capitol Hill sandwich joint: a $16 Philly cheesesteak (with Funyuns!) and an $18 Kansas City-style burnt ends sandwich with peppery slaw, cheesy corn, and barbecue sauce on Texas toast. They're available to-go starting the week before the big game, and you can order them on the 12th, too.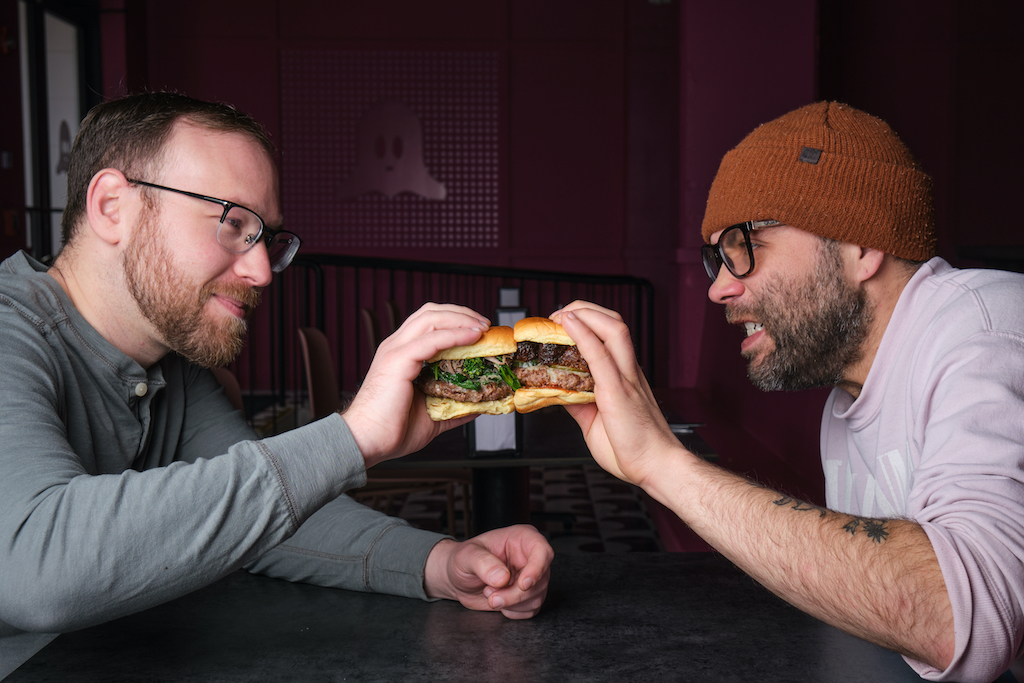 Ghostburger
1250 Ninth St., NW
Looking to celebrate the Eagles with cheesesteaks? There are tasty ribeye ($18-$23) and mushroom ($15) versions at this Shaw restaurant, along with two special themed burgers ($14 each) already on the menu: a Chiefs-inspired pileup of burnt ends, pickles, and provolone, and an Eagles patty topped with roast pork and broccoli rabe.
Jack Rose Wing Club
2007 18th St., NW
The Adams Morgan whiskey destination's pop-up is putting together party platters of up to 50 wings with several sauces and rubs. Other options include fried mac'and cheese, crispy chicken skins, burgers, and more. Orders are available on Toast, Doordash, and GrubHub until 4 PM on Sunday, February 12.
 Lulu's Wine Garden
1940 11th St., NW
Southwestern flavors are on the takeout menu at this Shaw hangout. Packages for six ($115), ten ($185), or 20 people ($370) include sliders, quest, hatch-green-chile mac' and cheese, and fermented chile/mango wings. You can also pick-up party-sized versions of dips like whipped feta and smoked whitefish. Pre-orders for pick-up or delivery can be placed on Tock until noon on Sunday, February 12.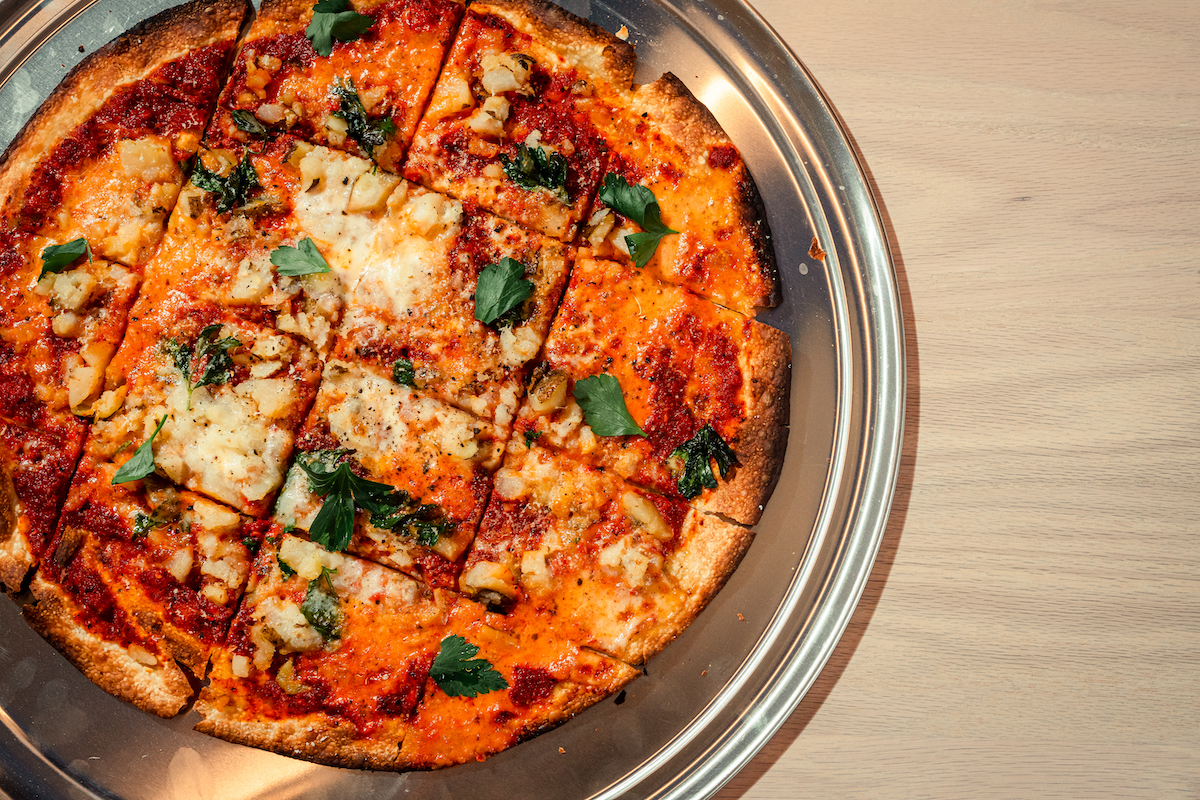 Nighthawk Brewery & Pizza
1201 S. Joyce St., Arlington
Johnny Spero's collaboration with Aslin Brewing Company is offering a $58 package that includes a 20-inch one-topping pizza, hickory-smoked wings, pesto cheesy bread, and a 2-liter bottle of soda . Schedule pick-up on Sunday, February 12 here. 
Shababi x Please Bring Chips
1320 H St., NE
Marcelle Afram's lauded Palestinian chicken operation is sending out a $20-per-person menu that includes a salsa trio, French onion labne dip, and smoked lamb arayes. Spiced chicken legs are $3 extra. Pre-order here for afternoon pickup on Sunday, February 12.
Stoney's
1433 P St., NW 
Trays of wings, chicken tenders, cheeseburgers, tater tots, and more come in various sizes at this Logan Circle saloon. There are also $12 large pizzas. Email your order here.
2Fifty
4700 Riverdale Rd., Riverdale Park
The area's top barbecue spot has three available packages for pickup on Super Bowl Sunday. The "Brisket Bash" ($140; serves 6 to 8) includes both Snake River wagyu brisket and Creekstone brisket; poblano sausages; cornbread; and a choice of sides. The "Touchdown Banquet" ($145; serves 8 to 10) features pineapple-glazed ham; smoked sausages; feta bunuelos; and more. And the "Wings and BBQ Bash" ($160; serves 6 to 8) showcases a dozen wings; two pounds of pulled pork; one pound of brisket; and more. Preorder by February 6 for pickup on February 12.
Urbano 116
116 King St., Alexandria; 2985 District Ave., Fairfax
The Old Town Mexican place and its Mosaic District sibling are offering fajita kits ($110), taco kits ($90 to $110), and enchilada kits ($90 to $110), which feed six to eight people. For more information, head here.